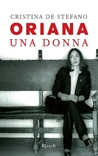 Oriana. Una donna
by
Cristina de Stefano
My rating:
5 of 5 stars
"I had seen them arrive: orderly, disciplined, regimented, a real flock that goes where those who command want it to go, those who promise, who frighten, it proceeds with closed eyes since there's no need to see the road, the road is a solid stream of fleece that will arrive at the square chosen by the power in charge..... long live whoever comes along, long live whoever is at the top of the mountain, never long live the poor bastards that die so that the sheep may become men and women."
I have never forgotten that passage from Oriana Fallaci's
Un Uomo [A Man]
, a fictionalised biography of her lover the Greek freedom fighter
Alexandros Panagulis
, which I read in 1980.
As an Italian graduate, I had long admired Oriana Fallaci's work and was fascinated by this seemingly fearless woman who had made it as an investigative journalist at a time when it was very difficult for a woman to do so.
Fallaci was once called "la giornalista più turbolento dell'Italia" ["Italy's most aggressive journalist"] by a colleague and Ayatollah Khomeini and Henry Kissinger were two Fallaci interviewees who probably agreed with this view of her. In 1979, she famously took her chador off in Khomeini's presence and, interviewing Henry Kissinger in 1972, she asked him why he was so popular. Kissinger at first denied that he was, then said he put his popularity down to the fact that he had always acted alone, like a cowboy riding out ahead of the wagon train. When the interview was published all over the world, it caused a scandal, as Americans were not very happy about the cowboy comparison. Years later, Kissinger said that agreeing to be interviewed by Fallaci was one of the most unfortunate decisions of his life.
From this excellent biography by Cristina de Stefano I learned a lot about Oriana that I hadn't realised before: that she had been a WW2 partisan, for instance and about her courage as a correspondent during the Vietnam war. I was astonished to learn that in love, the great Oriana Fallaci could be as foolish as the rest of us and the account of her affair with Alfredo Pieroni makes sad reading.
The love of her life, though, was the married French journalist François Pelou, who was her intellectual equal and who, according to de Stefano, taught her to see power through different eyes. Their love affair was all the more intense because it was conducted in the midst of war.
Oriana Fallaci had a love-hate relationship with America and once remarked that she was going to win. She lived happily in New York for many years and it was there that she meticulously researched her own family's history and wrote the first volume of it, Un cappello pieno di ciliege [A Hat Full of Cherries] which I am currently reading. [The book, though very long, was not completed and was published posthumously.] The rather charming title refers to the hat that Fallaci's mother was wearing when she met her father. If you read Italian and are also eagle-eyed, you may notice that "ciliege" in the title is spelled without the final -i. Fallaci had insisted on this because it was both the Tuscan way and the way that her mother had pronounced the word.
When 9/11 came, Fallaci was quick to defend her adopted country and later wrote a much-criticised book, La Rabbia e L'Orgoglio [The Rage and the Pride], about what she perceived as the Islamist threat.
Knowing that she had an incurable tumour, Oriana Fallaci faced death as courageously as she had faced life and planned for it in detail. At the end, she asked to be flown back to her beloved Tuscany, where she died on the night of 14th - 15th September 2006.
This biography has greatly added to my knowledge of Oriana Fallaci and has led me to read more of her books.
View all my reviews